Pregnancy will inevitably come to a lot of us and so will the need for new clothes. But with the new Belly Band you won't have to buy expensive maternity jeans. The only problem with this wonderful invention is that it is $30! Sure it's the price of one pair of jeans (two if you shop like me), but it is something that can easily be made at home for a few dollars.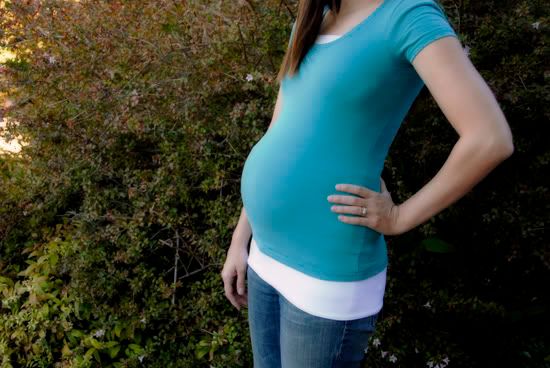 First, you need a stretchy and durable fabric. I got a spandex rayon blend that had no shimmer. Measure around your hips and around your abdomen. You want the band to fit tight around the hips to keep the pants up, but you don't want to squeeze your guts out. This being said, if your measurements are more than a few inches off from each other, you may need to taper the fabric. Remember to add 1/2" seam allowance.

I also doubled my fabric for clean lines and a sturdier product. I wanted a full panel cover, so I measured the fabric 24" wide and folded it over. Remember to keep the stretch of the fabric going around your middle.
I decided to add lace to this particular band, so I cut the lace about 2 inches longer than the fabric.
Put right sides of the fabric together, and then place the lace in between, so you stitch it all together in one shot. You'll want to give the lace a little slack as you sew so it will have some stretch with your body.
After stitching down the side, turn the fabric right side out.
Next, fold the fabric to complete the seam down the side. If you prefer a seam to be going down both sides of the garment, Cut along the fold, and stitch the other side as well. If you do this, be sure to allow 1" seam allowance.
So that's it! Very easy to make and very versatile to wear. And it's a whole lot more comfortable than trying to keep those pregnancy jeans adjusted!
Now for the fun part!
I will be giving away 2 custom made belly bands!
****GIVEAWAY IS CLOSED****
Congratulations to the following commenters:
Erin
... I'm following and I'm posting about it on my page right now!
Britney and Danny Johnson
... I love this idea!!! I am expecting and my jeans are needing a little help to stay on, and I have been looking for another option besides spending lots of money on new jeans. :)
1) Post a comment on this post with your email address.
2) Become a follower of the blog (indicate in your comment that you've done this).
3) If you mention this giveaway on your blog, you will be given 2 additional opportunities to win by leaving 2 more comments on this post.
Deadline for entry is November 9, 2010 at 11:59 MST. The winners will be randomly selected and announced on next Wednesday's post, so leave those comments!
Thanks to my adorable models Trisha and Lily, and the photography skills of Megan!
Linked up with: