Today's trick is something kind of handy to know if you are a contributor to more than one blog or if you are a guest on someone else's blog. It may be something some of you already know, but something that some of you may not know about that can save you a lot of time.
If you have an amazing project that you have already posted about on your blog, and want to share this same exact post as a guest or contributor on another blog, you can do this quickly without having to load all of your pictures and content up again on a new post. It's as easy as copying and pasting, and I'll show you how.
First you will go to where you can edit the post that you want to copy. You will see two tabs on your upper left corner of your editing box that say EDIT HTML and COMPOSE. Click on EDIT HTML.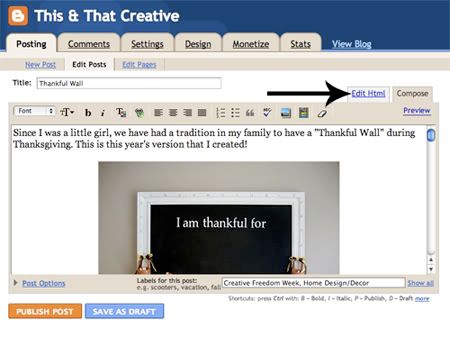 You don't have to understand any of the html. All you have to do is select all the content and copy it by holding down keys Ctrl and C. I have all the content selected in the image below.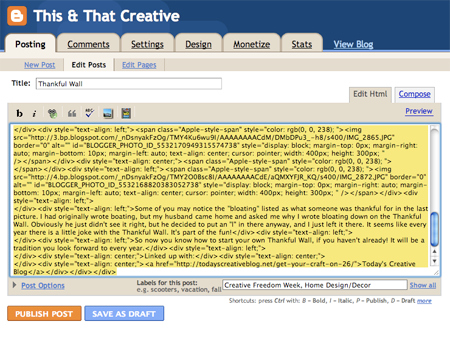 Then go to the new blog that you want this post on, and log in to make a new post. Once again you will click on EDIT HTML, then just paste your content in this new post by pressing keys Ctrl and V at the same time. Go back to COMPOSE and you will see your original post that you copied, all ready to be republished on the other blog. 
If you do not have login information to the blog you have copied your post for, then you can take the EDIT HTML content you copied and paste it in an email to the blog owner. Then they can paste this in their own blog post for you to be their guest. It's easiest if this is the only content in your email to avoid having your post not showing up exactly how you want it to look. 
It's a quick and simple way to share a post you've already done!