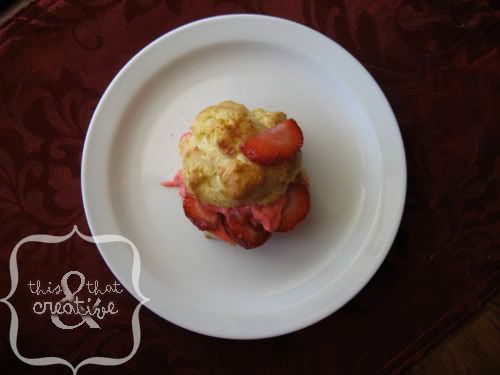 This recipe comes from a tweaked version of Patsy Swendson's "Chocolate-Raspberry Cream Puffs with Praline Powder" in the
Texas The Beautiful Cookbook
that I received as a gift when I was living in Texas.
Now I'm not gonna lie, this was the first time I actually made cream puffs. I have always wanted to make cream puffs, but always felt intimidated. I guess because most of the time I ate them at wedding receptions, and that's just pretty fancy. I was definitely pleased when it didn't take much at all to make them!
Here is the recipe:
Berry Cream Puff Sandwiches
For the cream puffs:
1 cup of water
1/2 cup of butter
1 cup of all-purpose (plain) flour
4 eggs
For the berry cream (my variation):
6 oz. of a berry flavored yogurt
8 oz. cream cheese
1/2 cup of powdered sugar
optional: one 3 oz. package of berry flavored jello
To complete the recipe:
1-2 cups of any type of berries 
To make the berry cream, combine yogurt, cream cheese, and jello and mix until smooth. Add the powdered sugar slowly while mixing. When your cream is a smooth consistency, refrigerate while you make the cream puffs.

Preheat oven to 400 degrees F.

Allow to cool slightly, 3-4 minutes. Add the eggs, one at a time, beating well after each addition.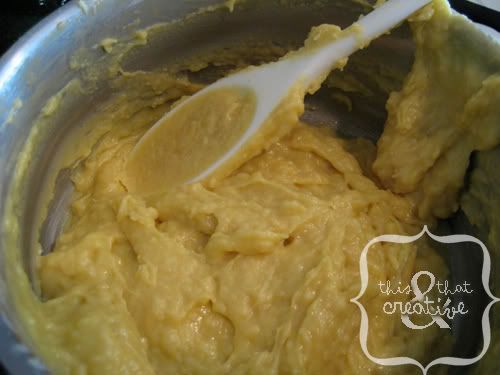 To form each cream puff, drop 2 rounded tablespoonfuls of dough onto an ungreased baking sheet, forming little mounds that are about 2 inches apart.
Bake until puffed and golden, 30-40 minutes. Let cool completely on the baking sheet. 
To assemble the cream puffs, slice the cream puffs in half horizontally. Fill the bottom pieces with the cream. I had a little problem with the bottoms having holes in them, so maybe have them on the plate you want them on before you add the cream, so you don't have to move them and have to deal with the cream falling out in the process. Then add the berries on the top of your cream, add another layer of cream on top of the berries, and put the tops of the puffs back on. Garnish with a berry. 
Makes about 12 servings.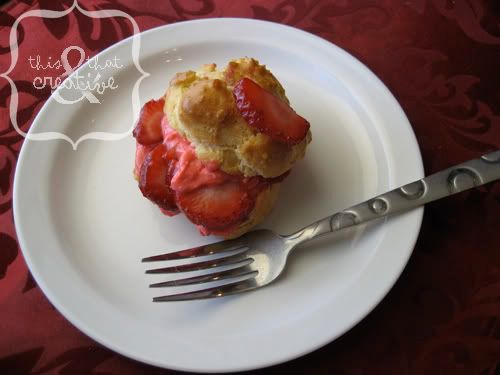 I am not lying when I say that I ate seven of these little beauties in one day. My husband couldn't stop me. Enjoy! Maybe not seven in one day though...